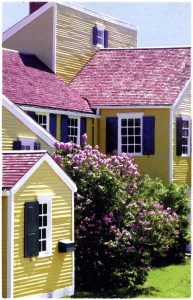 Annual Lilac Festival, Saturday, May 25 (10 am – 3 pm)
This beloved Seacoast event features a wide array of activities for children & families, lilac enthusiasts, and history buffs. Children will love building fairy houses with Tracy Kane (Reading begins at 11 am), creating art projects, searching the grounds on a treasure hunt, visiting an alpaca petting zoo, and more!
We will also have guest lectures by lilac experts (1pm), a silent auction, tours of the Mansion, and sales of many lilac varieties, including plants descended from our 250 year old lilacs, the oldest in the United States.
Artists participating in a plein air event will be onsite during the Festival, capturing the Site's gorgeous seaside views, lush green lawns, and century old lilacs. Their work will be featured in the onsite gallery.
Ample parking is available on site and on Little Harbor road. Guests are invited to use various means of transportation, including walking, bicycles, kayaks, and canoes.
See pictures of last year's Festival.
2013 Twilight Tour, Friday, August 16
The Wentworth-Coolidge Mansion will be included in the Portsmouth Historic House Association's Twilight Tour! See the Governor's Mansion and other famous historic Portsmouth sites after hours in the mysterious light of sunset.
Historic Portsmouth Chamber Music, TBA